Best Bar On King Street – Charleston, SC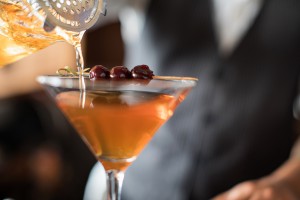 We got the message. Charlestonian's love their drinks. We're here to provide a little something special for everyone. Enjoy the perfect beverage with your meal, or join us at our incredible Walnut Bar downstairs. Of course, you won't want to miss the excitement of our open Rooftop bar either, featuring the area's only 360 view of the city! Wherever you choose to enjoy your drinks, you're sure to have an amazing time. Beyond our famously exciting and elegant ambience, browse our truly expansive drink menu to see what makes us one of the best bars on King Street!
Wine Lover's Paradise
Want to prove your devotion to a significant other? Put a ring on it. Want to prove your passion for fine wine? Put it on tap! We did just that. Choose from over 16 artisan wines on tap. We also offer full bottle service with a full range of carefully selected wines featuring the finest offerings from all over the world. Our staff will be happy to suggest the perfect pairing with your meal.
Robust Beer Selection
Whether you consider yourself a beer snob or a lover of all brews, we've got you covered. You'll find a full range of classic domestics together with plenty of popular imports. We also feature local craft beers and a rotating draft that's sure to keep any beer lover happy.
Exciting Signature Cocktails
We couldn't call ourselves one of Charleston's best bars on King Street without an impressive list of signature cocktails. Whether you're looking for something sweet, sour or anywhere in between, our bartenders will whip you up something special that you're sure to love. Be sure to check our menu for the featured classics and the latest concoctions!
Spirits Galore
Still not satisfied? No problem. There's something for everyone here at Stars. Make the best drinks with the finest spirits, featuring a full range of bourbon, whiskey, scotch, rum and much, much more. Whatever your pleasure, you'll find it here at the best bar on King Street in Charleston, SC!