Your Local American Bar & Grill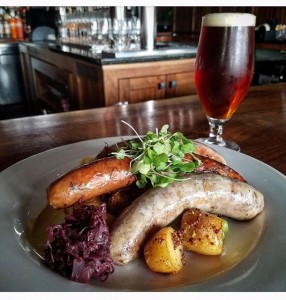 Dinner at Stars is a multi-faceted dining experience. From incredible food to exciting ambience and exceptional drinks, we take care to make every guest's night feel like an amazing culinary celebration. Your local bar and grill in Charleston, SC featuring elevated dishes in a stunning environment, we look forward to treating you with an incredible meal.
Carolina Cuisine & Grilled Specialties
Helmed by Chef Manuel Sequeira, our dinner menu is carefully crafted by some of Charleston's culinary all-stars. Featuring a live wood fire grill and exhibition kitchen, you'll enjoy Carolina Cuisine at its finest here at Stars. From mouth-watering wood grilled steaks and the freshest fish to spit-roasted prime rib and herb tossed chicken, join us for tender, smoky, decadent meals prepared in high style with the utmost care. And be sure to check in regularly, as you never know what new and exciting dishes will be available!
Scrumptious Starters
Our appetizers are no afterthought. Every item on our dinner menu is treated with the same passion and dedication to high quality cuisine. You'll find everything you need to get your meal started right or to hold over your appetite as you enjoy a glass of wine or a few of our signature cocktails. From Charleston favorites like our Mini Blue Crab Cakes and Oysters "Bingo" to Seared Ahi Tuna, Shrimp Cocktails and Wood Grilled Asparagus, there's always something special on the menu.
Finish your meal off with an amazing dessert, and then why not take your party to the Rooftop bar to close out the night in style? If you're looking for the best American bar and grill in Charleston, SC, you've found it. Join us for dinner tonight! We look forward to serving you.