Happy Hour Charleston, SC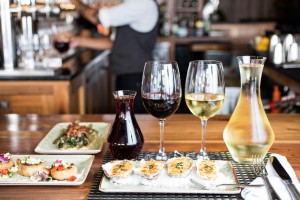 Available Monday – Thursday from 4-7pm at our Walnut Bar and High Top Tables, Happy Hour at Stars is always a great time. During each weekday evening, guests can enjoy a variety of appetizer and drink specials from a seat at our beautiful and welcoming Walnut Bar or High Top Tables. With $5 house liquors, $2 draft specials on both Bud Light and Yuenling, and half-off all artisan tap wines, this is truly a Charleston, SC happy hour for everyone!
Appetizer Specials
Don't worry. We've got a treat for the foodies too, with specials on our handcrafted appetizers that are hard to find at any other bar—not to mention any other happy hour in Charleston, SC. Alongside your favorite drink, enjoy a quick bite like our famous Baked Oysters "Bingo," made with sautéed spinach, fresh garlic, and brandy. Each week you can find delicious apps at great prices! Keep coming back for something new and exciting!
Note: No food is served on the Stars rooftop. All Happy Hour food and drink specials are available at the downstairs bar and the high-top tables on the bottom floor only.
The Best Food & Wine Happy Hour In Charleston, SC
It's easy to see why the Charleston City Paper says Stars is a place to get "aquatinted with". With amazing drink specials and the best appetizers in town, Happy Hour at Stars is the perfect evening stop. Enjoy your drinks and apps inside for an unforgettable experience in a warm, inviting atmosphere. Check out our menu, and join us for appetizer, beer, and wine happy hour specials this week! We look forward to serving you.