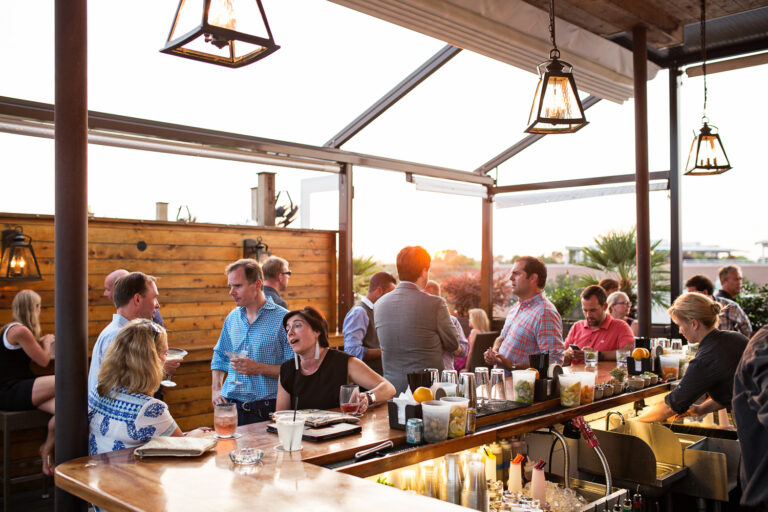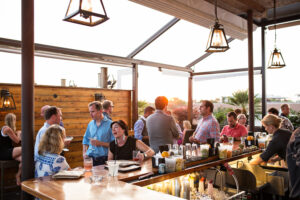 Daylight saving time is here, and the first day of spring is just around the corner. It's time to enjoy the longer days, relish in the fresh, warm air, and soak up the salty breezes bustling through the streets of the Holy City. All winter we've been longing for the days we could relax in the sunshine on our third floor rooftop, and we're thrilled to say those days are finally here!
Pull up a stool at our reclaimed Tigerwood bar, or kick back on the comfy recycled wicker chairs and couches nestled alongside the fresh herb planters that border our roof. Enjoy panoramic views of the historic Holy City Skyline, a spectacular sunset, and when the sun finally dips below the horizon, a sky full of twinkling stars.
Our knowledgeable bartenders can help you choose from our wide selection of craft beers, international tap wines and specialty cocktails made using locally sourced ingredients, but we'd be lying to you if we said we didn't have a few favorites just for spring.
King Bee
Hat Trick Gin from local favorite, High Wire Distilling Co., is mixed with fresh, citrusy yet spicy Lillet Blanc, sweet honey, fresh basil and a squeeze of fresh lemon.
Stars 495
Lowcountry-distilled Virgil Kaine Robber Baron rye whiskey is mixed with pomegranate liqueur, orange Cointreau, a squeeze of fresh lemon juice, and bubbly prosecco.
Nectar of the Stars
Sometimes simplicity is the key to a great cocktail. Peach and clementine vodkas are mixed with fresh squeezed orange juice in this new take on the traditional screwdriver.
Whatever you choose to sip, you're sure to have a great time on the Rooftop helping us celebrate the spring! We'll see you soon!