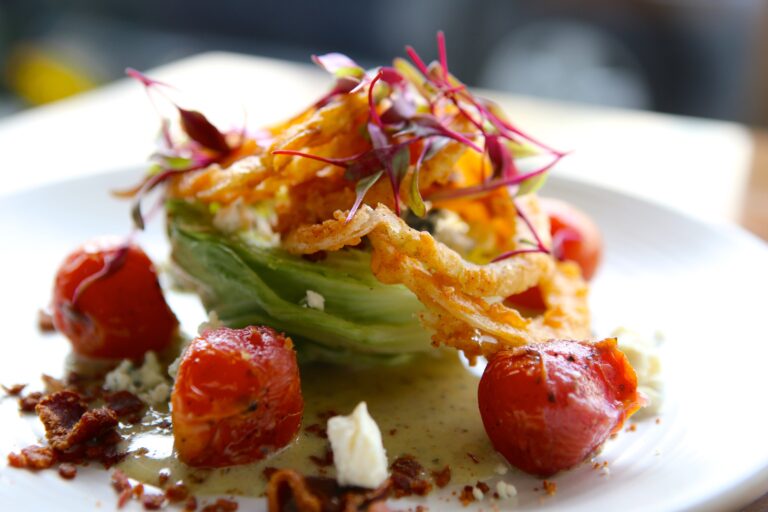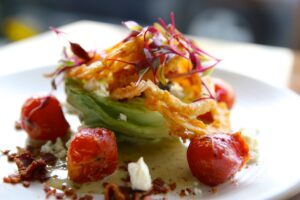 Charleston Restaurant Week has begun, and we're excited to share our carefully curated menu with you! Join us at Stars Rooftop & Grill Room now through January 22nd to enjoy three expertly prepared courses for only $40.
First Course
For your first course, indulge in warm and crispy Pork Meatballs, served with apple puree and blackberry gastrique. Looking for lighter fare? Choose the Baby Iceberg Wedge Salad, topped with charred tomatoes, house-smoked Clemson bleu cheese, bacon lardons, onion strings and buttermilk vinaigrette. Also available is a Soup of the Day, prepared fresh daily by our expert chef.
Second Course
Three options from the land and the sea await you for your second course. The Chinese 5 -Spice Ribs, seared to perfection over a live fire and served with white rice and stir- fried broccoli has a divine complex sauce. For a hearty seafood dish, try the Shellfish & Grits. Prepared with shrimp, lobster and scallops and served with Anson Mills grits and Andouille sausage gravy this is one of our favorite dishes. Our third main course dish pairs perfectly with the slight chill that's still lingering in the Lowcountry air. The Pan Roasted Chicken Breast served with pimento cheese risotto and winter vegetables is sure to warm your belly and satisfy your taste buds.
Third Course
This year, our third course dessert options rotate daily, so stop by or give us a call to find out what we're serving!
Make your Charleston Restaurant Week 2017 reservations at Stars Rooftop & Grill Room today!